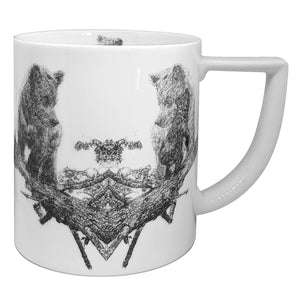 The Orphans Fine English China Mug
Sale price Price $37.00 Regular price
Luxurious, finest English china mug featuring intricate Biro drawing The Orphans by Jane Lee McCracken. Designed as a piece of art in functional form with a "little surprise!" inside, revealed as the user drinks from the mug. A unique conversation piece that will last a lifetime and perfect as a gift for someone special or as an opulent treat.
DETAILS
Made of the highest quality china with an elegant handle, this design tells a tale of Russian brown bear cubs and is one of a set of seven exquisite mugs.
Fine English Bone China Mug
Height 9.5 x Diameter 8.5 cm
Design and art by Jane Lee McCracken
Made in Stoke-on-Trent, England by

 

The New English
Hand decorated
Dishwasher safe
5% of profits go directly to the Orphan Bear Rescue Center
DELIVERIES & RETURNS
FREE UK SHIPPING ON MUG ORDERS UNDER £25. SECURELY PACKAGED AND SHIPPED WORLDWIDE VIA TRACKED SHIPPING SERVICE. UK DELIVERY 2-5 DAYS / INTERNATIONAL DELIVERY 5-7 DAYS
RETURNS WITHIN 14 DAYS - PLEASE SEE OUR RETURNS POLICY UPON CHECKOUT 
BACK IN STOCK MID - JANUARY 2019
THE STORY
This beautiful mug is reproduced from the second Biro drawing of Jane's brown bear diptych The Orphans, which also includes Mummy Bear and Baby Bear.
Inspired by Ivan Shishkin's painting Morning in a Pine Forest, Jane created an ethereal forest setting for the The Orphans playground. Eerie creatures are formed from the patterns in the pine branches and foliage. This evokes the precarious world in which the cubs inhabit without their mother's protection.
On the back of this enchanting mug, bear cubs play on a tree branch that also has layered images of Wojtek the soldier bear, including his regimental badge. The tree branch image is repeated inside where it becomes a slide for cubs, their mischievous play revealed as the contents of the mug are drunk!
All brown bear products see 5% of profits go directly to the Orphan Bear Rescue Center, Russia
ORPHAN BEAR RESCUE CENTRE
The Orphan Bear Rescue Center is located in Bubonitsy village of Tver Region, 450 km northwest of Moscow. The Centre rescues, rehabilitates, raises, and prepares orphaned brown bear cubs for independent survival in the wild. Specialists of the Center release rehabilitated cubs into the wild and carry out post-release monitoring to check if the cubs adapt well to their natural habitats.
YOU MIGHT LIKE
Also included in this collection are limited edition prints and limited edition fine china plates