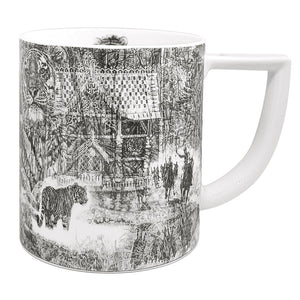 Shh, it's a Tiger-Bang! Fine China Mug
Sale price Price $37.00 Regular price
SHH, IT'S A TIGER - BANG! FINE ENGLISH CHINA MUG
Luxurious, finest English china mug featuring intricate Biro drawings Shh, it's a Tiger! and Bang! by Jane Lee McCracken. Designed as a piece of art in functional form with a "little surprise!" inside, revealed as the user drinks from the mug. A unique conversation piece that will last a lifetime and perfect as a gift for someone special or as an opulent treat.
DETAILS
Made of the highest quality china with an elegant handle, this design tells a tale of Siberian tigers and is one of a set of seven exquisite mugs.
Fine English Bone China Mug
Height 9.5 x Diameter 8.5 cm
Design and art by Jane Lee McCracken
Made in Stoke-on-Trent, England by

 

The New English
Hand decorated
Dishwasher safe
DELIVERIES & RETURNS
FREE UK SHIPPING ON MUG ORDERS UNDER £25. SECURELY PACKAGED AND SHIPPED WORLDWIDE VIA TRACKED SHIPPING SERVICE. UK DELIVERY 2-5 DAYS / INTERNATIONAL DELIVERY 5-7 DAYS
RETURNS WITHIN 14 DAYS - PLEASE SEE OUR RETURNS POLICY UPON CHECKOUT 
THE STORY
Dedicated to the majestic Siberian tiger of Ussuriland this Russian fantasy was inspired by images of Bengal tigers bathing in forest pools, overlooked by the ruined palaces of Ranthambore. Amba, the Udege name for Siberian Tiger meaning Guardian of the Forest, is depicted sweeping through the pine trees and layered over an antique dacha birdcage. A Red Army cavalry breaking out of the forest heralds the historic circumstances that contributed to this tiger species' decline.
This beautiful mug features a wrapped mirror image of Shh, it's a Tiger! drawing, creating an abstract tangle of patterns in the centre of the design, giving a magical impression of the tigers dense forest habitat. The interior depicts the tiger from original Biro drawing Bang! who looks directly into the eyes of the mug user each time they drink from the mug! On the handle is a small image of a ghostly tiger and Udege woman walking side by side. This creates an optical illusion when the mug is viewed from a distance as the couple appear to be walking out of the forest.
YOU MIGHT LIKE
Also included in this collection are limited edition prints and limited edition fine china plates