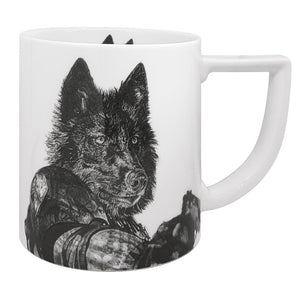 Revenge Fine English China Mug
Sale price Price $37.00 Regular price
Luxurious, finest English china mug featuring intricate Biro drawing Revenge by Jane Lee McCracken. Designed as a piece of art in functional form with a "little surprise!" inside, revealed as the user drinks from the mug. A unique conversation piece that will last a lifetime and perfect as a gift for someone special or as an opulent treat.
DETAILS
Made of the highest quality china with an elegant handle, this design tells a tale of a grey wolf and is one of a set of seven exquisite mugs.
Fine English Bone China Mug
Height 9.5 x Diameter 8.5 cm
Design and art by Jane Lee McCracken
Made in Stoke-on-Trent, England by

 

The New English
Hand decorated
Dishwasher safe
DELIVERIES & RETURNS
FREE UK SHIPPING ON MUG ORDERS UNDER £25. SECURELY PACKAGED AND SHIPPED WORLDWIDE VIA TRACKED SHIPPING SERVICE. UK DELIVERY 2-5 DAYS / INTERNATIONAL DELIVERY 5-7 DAYS
RETURNS WITHIN 14 DAYS - PLEASE SEE OUR RETURNS POLICY UPON CHECKOUT 
**PLEASE NOTE** THIS ITEM WILL BE BACK IN STOCK MID-NOVEMBER 2019
THE STORY
Revenge is inspired by an infamous tale of lupine love and loyalty, as a black wolf mourns the loss of his white mate, featured in Sweet and transforms into a superhero.
This iconic mug design positions the black wolf at a precise angle where his gun is aimed over the shoulder of the mug user towards the target of his vengeance, a hunter. A mirror image appears on the mug back. Inside the mug is a smaller image, which is revealed each time a cup of tea or coffee is drunk!
YOU MIGHT LIKE
Revenge is also available as a T-shirt design, limited edition print and coupe plate.