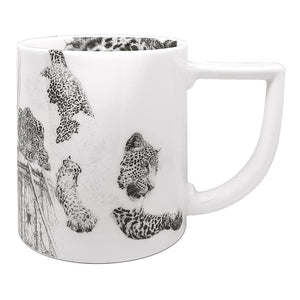 Our Forefathers Our Loss Fine China Mug
Sale price Price $37.00 Regular price
OUR FOREFATHERS OUR LOSS FINE ENGLISH CHINA MUG
Luxurious, finest English china mug featuring intricate Biro drawings 'Our Forefathers' and 'Our Loss' by Jane Lee McCracken. Designed as a piece of art in functional form with a "little surprise!" inside, revealed as the user drinks from the mug. A unique conversation piece that will last a lifetime and perfect as a gift for someone special or as an opulent treat.
DETAILS
Made of the highest quality china with an elegant handle, this design tells a tale of Amur leopards the world's most endangered big cat, and is one of a set of seven exquisite mugs.
Fine English Bone China Mug
Height 9.5 x Diameter 8.5 cm
Design and art by Jane Lee McCracken
Made in Stoke-on-Trent, England by

 

The New English
Hand decorated
Dishwasher safe
DELIVERIES & RETURNS
FREE UK SHIPPING ON MUG ORDERS UNDER £25. SECURELY PACKAGED AND SHIPPED WORLDWIDE VIA TRACKED SHIPPING SERVICE. UK DELIVERY 2-5 DAYS / INTERNATIONAL DELIVERY 5-7 DAYS
RETURNS WITHIN 14 DAYS - PLEASE SEE OUR RETURNS POLICY UPON CHECKOUT 
THE STORY
This mug design reproduces both drawings from Jane's Amur leopard diptych. Our Forefathers and Our Loss contemplate the origins and repercussions of man's fascination with collecting natural exotica from early European exploration to the present day. This is symbolised by a representation of Rembrandt's The Windmill 1641, as the windmill becomes an exotic folly for three Amur leopards, one of the world's most endangered species.
This stunning mug focuses on an enlarged image of the leaping leopard, it's paw outstretched towards the handle as if taking a swipe at the mug user, its tail flicked inside the mug. A more complete image of the original drawing features on the mug back emphasising The Windmill. The interior features the two leopards from Our Loss, their eyes peering out of the mug at the world around them.
YOU MIGHT LIKE
Also included in this collection are limited edition prints and limited edition fine china plates