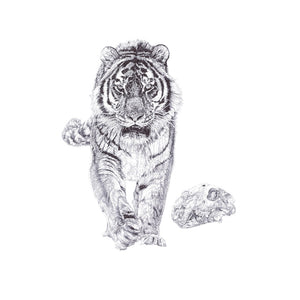 Bang! Limited Edition Print
Sale price Price $253.00 Regular price
2015 LIMITED EDTION PRINT
50 X 50 CM
EDITION / 50 
Beautifully reproduced from original Biro drawing Bang! 2013 by Jane Lee McCracken.
DETAILS
This luxurious, high quality large format print is crafted by one of the very best print makers in the industry.
Print reproduced from original Biro drawing by Jane Lee McCracken
Edition / 50
Archival pigment print on Hahnemühle Photo Rag 308gsm
Size: 50 x 50 cm
Print is signed and numbered by Jane Lee McCracken
DELIVERIES & RETURNS
PLEASE NOTE THIS PRINT IS MADE TO ORDER - LEAD TIME IS 10 DAYS PLUS SHIPPING 
SECURELY PACKAGED AND SHIPPED WORLDWIDE VIA TRACKED SHIPPING SERVICE. WHEN PRINT IS READY TO SHIP UK DELIVERY 2-5 DAYS / INTERNATIONAL DELIVERY 5-7 DAYS
RETURNS WITHIN 14 DAYS - PLEASE SEE OUR RETURNS POLICY UPON CHECKOUT 
THE STORY
Bang! is the second design of Jane's Siberian tiger diptych and one of eight designs from her iconic print and china series In Homage to the Last Great Carnivores of Eurasia. It highlights threatened and endangered carnivores across the Eurasian continent.
Bang! pays homage to the elusive Siberian tiger and highlights why they are threatened. Stalking through the centre of this beautiful china plate, a magnificent tiger is unknowingly being watched by a hunter. Next to the tiger is a tiger skull pierced by a bullet hole and layered with imagery of revolutionary soldiers who have just slain a tiger. This symbolises the initiating circumstances of the rapid decline in the population of Siberian tigers. Soldiers of the Russian Revolution based in Vladivostok prolifically hunted this species to around 40 wild individuals. World War II saw a reprieve for tigers with a decline in hunting and their numbers gradually recovering to a current population of around 562 wild Siberian tigers. This species is classified endangered and is still threatened by hunting and habitat loss. Jane's meticulous drawings take several months to research and make. 
YOU MIGHT LIKE 
Also included in this collection are fine English china mugs and limited edition coupe plates