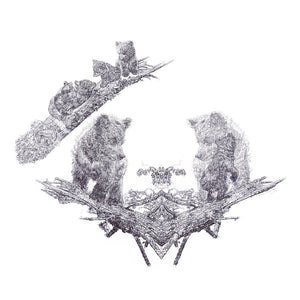 The Orphans Limited Edition Print
Sale price Price $253.00 Regular price
2015 
ARCHIVAL PIGMENT PRINT ON HAHNEMUHLE PHOTO RAG 308GSM
50 X 50 CM
EDITION / 50 
Beautifully reproduced from Jane's intricate black Biro drawing The Orphans. This is the second design of her brown bears diptych. One of eight designs for her iconic print and china collection In Homage to the Last Great Carnivores of Eurasia, this body of work highlights threatened and endangered carnivores across the Eurasian continent.
Inspired by Ivan Shishkin's painting Morning in a Pine Forest, Jane created an ethereal forest setting for the The Orphans playground. Eerie creatures are formed from the patterns in the pine branches and foliage. This evokes the precarious world in which the cubs inhabit without their mother's protection.
Jane's meticulous drawings take several months to research and make. Sumptuous signed and numbered limited edition archival pigment print, made by one of the very best printmakers in the industry.
Print reproduced from original Biro drawing by Jane Lee McCracken 
Edition: 50 
Paper: Hahnemühle Photo Rag 308gsm 
Size: 50 x 50 cm 
Print is signed and numbered by Jane
5% of profits go directly to the Orphan Bear Rescue Centre, Russian helping rehabilitate bear cubs back to the wild.
PLEASE NOTE THIS PRINT IS MADE TO ORDER - LEAD TIME IS 10 DAYS PLUS SHIPPING 
SECURELY PACKAGED AND SHIPPED WORLDWIDE VIA TRACKED SHIPPING SERVICE. WHEN PRINT IS READY TO SHIP UK DELIVERY 2-5 DAYS / INTERNATIONAL DELIVERY 5-7 DAYS
RETURNS WITHIN 14 DAYS - PLEASE SEE OUR RETURNS POLICY UPON CHECKOUT 
ORPHAN BEAR RESCUE CENTRE
The Orphan Bear Rescue Centre is located in Bubonitsy village of Tver Region, 450 km northwest of Moscow. The Centre rescues, rehabilitates, raises, and prepares orphaned brown bear cubs for independent survival in the wild. Specialists of the Center release rehabilitated cubs into the wild and carry out post-release monitoring to check if the cubs adapt well to their natural habitats.