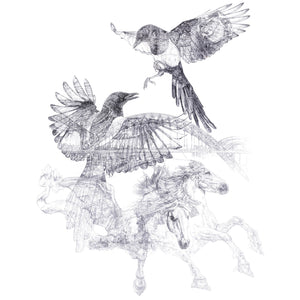 Magpies A1 Limited Edition Print
Sale price Price $513.00 Regular price
Magpies 2018 Urban Wildlife Collection 
A1 LIMITED EDITION ARCHIVAL PIGMENT PRINT ON HAHNEMUHLE PHOTO RAG 308GSM
60 x 84 cm
EDITION / 25
Jane's meticulous drawings take several months to research and make.  Sumptuous signed and numbered limited edition archival pigment print, made by one of the very best printmakers in the industry.
Print reproduced from original Biro drawing by Jane Lee McCracken
Edition: 25
Paper: Hahnemühle Photo Rag 308gsm
Size: 60 x 84cm
Print is signed and numbered by Jane
PLEASE NOTE THIS PRINT IS MADE TO ORDER - LEAD TIME IS 10 DAYS INCLUDING SHIPPING 
SECURELY PACKAGED AND SHIPPED WORLDWIDE VIA TRACKED SHIPPING SERVICE
FOR RETURNS OF THIS ITEM PLEASE SEE OUR RETURNS POLICY UPON CHECKOUT
5% of profits from online print sales go directly to Newcastle United Foundation supporting their vital work in the community 
Magpies Artwork
Coursing through the veins of many Geordie's, is a rousing passion for the city of Newcastle. The majestic River Tyne, lifeblood of the Toon, is spanned by the iconic 1920s Tyne Bridge, which is featured at the centre of this artwork. Paying homage to Newcastle United Football Club two magpies, mascots of NUFC, swoop and soar above the city, while St James's Park Stadium swirls through the outstretched wing of the magpie in the forefront. A number nine, representing the legendary Number '9' jersey and its most famous emissary, striker Alan Shearer, appears under the wing of Anthony Gormley's epic Angel of the North, which proudly stands on the cusp of the Tyne Bridge. The Strawberry Pub's black and white shirt sign is suspended from the bridge over the winding Quayside. Heraldic elements inspired by the City of Newcastle coat of arms including The Keep and a noble lion are layered through the wings of the magpie fluttering above the Tyne Bridge, while Grey Street's Monument and a Metro sign are projected on its tail. Musical notes from Newcastle anthem The Blaydon Races play along the side of the bridge. Architectural gems and institutions including the Millennium Bridge, Baltic and Sage are also represented. The artwork's tour de force, two mythical seahorses or hippocampi, charge through the centre of the composition, signifying that Newcastle is a seaport. Inspiration for these creatures came from Camargue horses often known as true seahorses, the horses of the Bartholdi Fountain, Lyon and the Trevi Fountain, Rome. Tossing their drenched manes, the horses splash through the River Tyne on their journey towards the North Sea. Recognition for the city's proud shipbuilding heritage is proclaimed through a representation of Gladstone Adam's photograph, recording the launch of the Mauretania, which is layered through the body of the lead horse. Born in Newcastle, Adams was a photographer and inventor of the windscreen wiper. He is also the Great Great Uncle of Jane's childhood friend. The energy and movement captured within this artwork aims to reflect Geordie passion, inherent to Jane's interpretation of Newcastle.