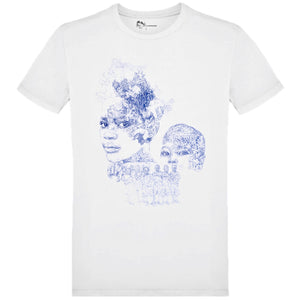 LETTE Men's Limited Edition T-shirt
Sale price Price $52.00 Regular price
Luxurious 100% organic cotton T-shirt featuring Lette Biro drawing by Jane Lee McCracken. A limited edition product made to order
DETAILS
Beautifully reproduced from the original artwork inspired by the work of Mary's Meals, using high quality digital printing and eco-friendly water based inks on the finest cotton T-shirts, sourced from an ethically accredited factory. 
Classic fit round neck t-shirt
100% organic ring-spun combed cotton 155 gsm
Single jersey
Sizes XS - XXXL
5 % profit donated to Mary's Meals
SIZING
Before purchasing please scroll along size guide below for correct size: 
| | | | | | | | |
| --- | --- | --- | --- | --- | --- | --- | --- |
| Sizes | XS | S | M | L | XL | XXL | XXXL |
| Chest cm  | 45 | 48 | 51 | 54 | 57 | 60 | 63 |
| Chest inches  | 34-36 | 36-38 | 38-40 | 40-42 | 42-44 | 44-46 | 46-48 |
| Length (HPS) cm | 67.5 | 69.5 | 71.5 | 73.5 | 75.5 | 77.5 | 79.5 |
ORDER
This product is limited edition, beautifully made to order. Place your order here for T-shirt to be made just for you.
Please allow 2 - 3 weeks for production before being contacted with a shipment tracking number
DELIVERIES & RETURNS
FREE UK SHIPPING ON T-SHIRT ORDERS OF £40 AND UNDER. SECURELY PACKAGED AND SHIPPED WORLDWIDE VIA TRACKED SHIPPING SERVICE. UK DELIVERY 2-5 DAYS / INTERNATIONAL DELIVERY 5-7 DAYS
RETURNS WITHIN 14 DAYS - PLEASE SEE OUR RETURNS POLICY UPON CHECKOUT 
LETTE ARTWORK
LETTE Artwork was commissioned to celebrate the work of charity
Mary's Meals
"Our vision is that every child receives one daily meal in their place of education and that all those who have more than they need, share with those who lack even the most basic things"
ARTWORK INSPIRATION - LETTE & CHILD 31
"Initially I was looking for a child to feature in my Biro drawing who had been helped by Mary's Meals and whose eyes and demeanour spoke of their life experience. Mary's Meals provided so many incredible images of children from across the globe involved in their program that it was hard to make a final decision of which child to portray.
Eventually I found an image of a beautiful little girl featured in a page banner on Mary's Meals website. I set about trying to find out who she was and hopefully find further images to work from, in order to bring her portrait to life. However it proved virtually impossible to locate her, as Mary's Meals have helped so many children."
Lette 2017 blue Biro drawing
"My working method involves taking photographs of television screens as films play. This not only helps create inspirational images to work from but also gives a cinematic quality to the drawings.
Having purchased a DVD of Mary's Meals film Child 31 to photograph, I began to watch the film and spotted the girl I had been searching for! Lette, an orphan from Malawi was 12 years old when Child 31 was filmed. Her grief over the loss of her parents, the anguish she felt at being left to care for her two younger brothers and the hunger pains they all suffered was incomprehensible. Equally, Lette's grace, beauty and devotion to her siblings, was humbling.
In Child 31 she explains she wants to be a nurse and through Mary's Meals Malawi program the family were not only receiving a daily hot meal in school but also the education she so clearly relished. In creating the portrait of Lette and highlighting one little girl's inspirational story, my aim was to illustrate hope, given to every child Mary's Meals reaches."
African Wildlife fabric painting 2017 Jane Lee McCracken
SYMBOLISM & IMAGERY
Magnus McFarlane-Barrow founded Mary's Meals in 2002, following a trip to Malawi providing famine relief. Depicting flora and fauna of Malawi within some of the drawing layers of the artwork, symbolises Mary's Meals origins and Lette's heritage.
National emblems of Malawi such as Thomson's gazelles and lotus flowers are also featured. The inclusion of a giraffe was inspired by a child's painting, which hung on the wall in Lette's family home. Leopards and African painted dogs symbolise 'hunger' as an ever-present stalking predator. Gazelle's galloping through the piece symbolise freedom and the exhilaration of experiencing a brighter future, through education.
Jane made a wildlife fabric painting as inspiration for the drawing layers within the piece, which also celebrates Africa's rich culture of painting and batik fabric. Lette's youngest brother is also featured, carried on her back. This highlights the catastrophe of many orphaned children across the globe, forced to care for their siblings. A faint layer of children in school uniform with a layer of letters and numerals symbolises 'education'.
Finally Jane wanted to create a sense of fairy tale quality to the artwork as if giving Lette respite from being a carer and allowing her to become a child again and dream of things all little girls dream of.