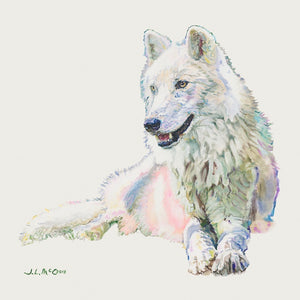 Atka Limited Edition Print
Sale price Price $124.00 Regular price
ATKA 2018 
Beautifully reproduced from Atka 2018 painting by Jane Lee McCracken created in remembrance of Atka's breathtaking beauty, his unique spirit and remarkable charisma. In support of the Wolf Conservation Center
DETAILS
Sumptuous signed and numbered limited edition Atka prints are made by one of the very best printmakers in the industry.
Print reproduced from original painting by Jane Lee McCracken
Archival pigment print on Hahnemühle Photo Rag 308gsm
Size: 50 x 46 cm / 19.68 x 18.11 in
Printed in the UK
Print is signed and numbered by Jane Lee McCracken
Profits go directly to the Wolf Conservation Center
CHECKOUT CURRENCY IN GBP (BRITISH POUNDS) 
DELIVERIES & RETURNS
PLEASE NOTE THIS PRINT IS MADE TO ORDER. PRINTS CAN BE ORDERED NOW WITH NEXT SHIPMENTS BEGINNING MID JANUARY. 
SECURELY PACKAGED AND SHIPPED WORLDWIDE VIA TRACKED SHIPPING SERVICE. WHEN PRINT IS READY TO SHIP UK DELIVERY 2-5 DAYS / INTERNATIONAL DELIVERY 5-7 DAYS
RETURNS WITHIN 14 DAYS - PLEASE SEE OUR RETURNS POLICY UPON CHECKOUT 
ATKA ARTWORK
Atka 2018 painting was created in remembrance of Atka, Wolf Conservation Center's magnificent Ambassador wolf, who passed away September 22, 2018. 
"Atka lived to be the oldest ambassador wolf at the Wolf Conservation Center (WCC), passing away peacefully in September 2018 at 16 years old. He arrived at the WCC from Minnesota when he was just 8 days old. The confident and charismatic ambassador won the hearts and opened the minds of hundreds of thousands of people throughout his storied career. As an important player in the fight to preserve wolves' rightful place in the environment...Atka isn't just a luminary in the world of conservation, he's a superstar! Thank you, Atka, for allowing the world to form lasting connections with not only you but your wild kin as well! We will always remember and honor your wild legacy." Wolf Conservation Center
Jane first drew Atka in 2013 to raise funds for WCC. Since then, she has made several artworks of their ambassador, red and Mexican gray wolves.  Atka's beauty and spirit had a profound impact on her, that led to a 5-year ambition to meet him. Jane finally visited WCC in March 2018. Meeting Atka and the other wolves at WCC, was an awe-inspiring experience for her. Following Atka's passing, she felt compelled, through her art, to pay homage to his exceptional life. 
WOLF CONSERVATION CENTER
The Wolf Conservation Center teaches people about wolves, their relationship to the environment and the human role in protecting their future.
Founded by Hélène Grimaud in 1999, the Wolf Conservation Center (WCC) is a 501(c)(3) not-for-profit environmental education organization working to protect and preserve wolves in North America through science-based education, advocacy, and participation in the federal recovery and release programs for two critically endangered wolf species - the Mexican gray wolf and red wolf. Through wolves, the WCC teaches the broader message of conservation, ecological balance, and personal responsibility for improved human stewardship of our World. 
All profits from print sales will go directly to WCC in support of their vital work for wolves.
YOU MIGHT LIKE
American Dream limited edition print for the Wolf Conservation Center