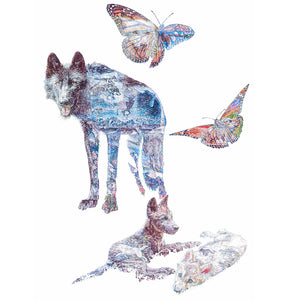 American Dream Limited Edition Print
Sale price Price $251.00 Regular price
Beautifully reproduced from original colour Biro drawing American Dream 2014, created by Jane Lee McCracken for the Wolf Conservation Center, New York. Artwork depicts WCC's Ambassador wolves and the American wilderness.
DETAILS
This luxurious, high quality print is crafted by one of the very best print makers in the industry.
Archival pigment print on Hahnemuhle photo rag 308gsm
42 x 60 cm
Edition / 20
Signed and numbered by Jane Lee McCracken
All proceeds go directly to the Wolf Conservation Center
DELIVERIES & RETURNS
THIS PRINT IS MADE TO ORDER WITH A LEAD TIME OF 7 - 10 DAYS.
SECURELY PACKAGED AND SHIPPED WORLDWIDE VIA TRACKED SHIPPING SERVICE. WHEN PRINT IS READY TO SHIP UK DELIVERY 2-5 DAYS / INTERNATIONAL DELIVERY 5-7 DAYS
RETURNS WITHIN 14 DAYS - PLEASE SEE OUR RETURNS POLICY UPON CHECKOUT 
THE STORY
'American Dream' 2014 colour Biro drawing was auctioned in 2014 by the Wolf Conservation Center to raise funds for their vital work conserving critically endangered Red and Mexican Gray wolves.
SYNOPSIS 
"Winter howls through Yellowstone National Park, sweeping across Ambassador wolf Zephyr's fur. An intrepid stag plunges through a deep blanket of snow, pursued by wolves, as a bison battles against a blizzard on the plains between the mountains. A mountain bluebird heralds the arrival of spring, as a bear wakes from hibernation and a bison calf is caught in a spring shower, while Alpine flowers blossom on Zephyr's legs. Summer shimmers on the wings of a monarch butterfly announcing the arrival of Nikai, the Wolf Conservation Center's newest Ambassador. Nikai listens to the bluebird's song as bison rut in a summer meadow.
Fall flickers over Zephyr, as a pup, and turns to winter over Alawa, also as a pup and the wolf pack led by Atka return to their winter trail. Atka, the leader of the WCC Ambassador Pack, gleams like the sun on the wings of a monarch butterfly. He watches over Zephyr, Alawa, and Nikai in a landscape where wolves roam free."
With kind thanks to the Wolf Conservation Center's Executive Director Maggie Howell and Curator Rebecca Bose for providing beautiful images of WCC's ambassador wolves as inspiration for this piece.
YOU MIGHT LIKE
'Atka' limited edition print for the Wolf Conservation Center