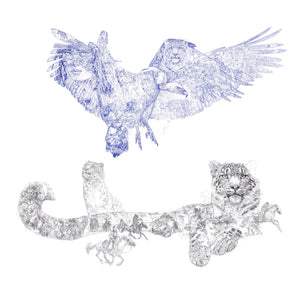 Khan Limited Edition Print
Sale price Price $383.00 Regular price
2021
ARCHIVAL PIGMENT PRINT ON HAHNEMUHLE PHOTO RAG 308GSM
50 X 50 CM
EDITION / 50
Beautifully reproduced from Jane's intricate blue and black Biro drawing Khan featuring the Snow Leopard and Himalayan Vulture. Part of her iconic print and fine English china coupe plate collection In Homage to the Last Great Carnivores of Eurasia, this body of work highlights threatened and endangered carnivores across the Eurasian continent. A large format print of Khan is on permanent display in her Where Did All the Animals Go? exhibition at Great North Museum: Hancock, Newcastle upon Tyne.
Jane's meticulous drawings take several months to research and make. Sumptuous signed and numbered limited edition archival pigment print, made by one of the very best printmakers in the industry.
Print reproduced from original Biro drawing by Jane Lee McCracken 
Edition: 50
Paper: Hahnemühle Photo Rag 308gsm 
Size: 50 x 50 cm 
Print is signed and numbered by Jane
PLEASE NOTE THIS PRINT IS MADE TO ORDER - LEAD TIME IS 10 DAYS INCLUDING SHIPPING 
SECURELY PACKAGED AND SHIPPED WORLDWIDE VIA TRACKED SHIPPING SERVICE
FOR RETURNS OF THIS ITEM PLEASE SEE OUR RETURNS POLICY UPON CHECKOUT
ABOUT KHAN
Created for Where Did All the Animals Go? 2021 exhibition, Khan highlights the plight of one of the most beautiful and elusive species on Earth, the vulnerable snow leopard known locally as the 'Ghost of the Mountains'. The drawing depicts historic events and waning cultures, through the eyes of these big cats. Over millennia, from their mountain eyries, snow leopards have witnessed the rise of Ghengis Khan and the Mongol Empire, Nepalese villagers driving caravans of yak across the Himalayas and the extermination of Mongolian wolves during the Chinese Cultural Revolution. To this day, snow leopards are hunted for their fur, and face increasing pressures from human encroachment on their habitat.  
The drawing features a Himalayan vulture, a near threatened bird that is not only sacred to many cultures in the region but that also shares a commensal relationship with snow leopards. Both the snow leopard and vulture are woven with layers of drawn images referencing the films Mongol, 2007 by Sergei Bodrov, Himalaya, 1999 by Eric Valli and Wolf Totem, 2015 by Jean-Jacques Annaud. This layered technique, used in many of Jane's drawings, conjures a cinematic quality to her art. Part of her fine china and print collection In Homage to the Last Great Carnivores of Eurasia, this artwork explores the region where the snow leopard is Khan.  
Living Planet Gallery Ground floor with Khan print and exhibition panels designed by Simon Cataudo © Tyne & Wear Archives & Museums / Colin Davison