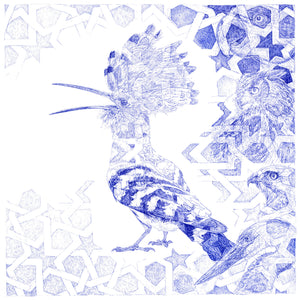 Dear Hoopoe Limited Edition Print
Sale price Price $253.00 Regular price
2021 
ARCHIVAL PIGMENT PRINT ON HAHNEMUHLE PHOTO RAG 308GSM
30 X 30 CM
EDITION / 25 
Created by Jane Lee McCracken for the major exhibition Making Paradise: Exploring the concept of Eden through Art & Islamic Garden Design 2021 at the Aga Khan Centre Gallery, London, Dear Hoopoe is the first design for her ceramic tile diptych which features her original Biro drawings.
Inspired by Attar's 12th century poem The Conference of the Birds, Dear Hoopoe portrays the hoopoe open beaked as he speaks to the gathered birds of their quest and the difficult journey they must make to search for their King. The Hoopoe is puffed up with self-importance, crown displayed in triumph. The white space to the left of design signifies an opening for the Hoopoe's voice to carry forth to the second design Dear Nightingale where more birds are gathered. To the right of the hoopoe listening intently is an Alexandrine Parakeet, a Eurasian Eagle owl, an Upland Buzzard and a Goliath Heron. The birds are layered through the angular pattern of a tile from the Alhambra Palace which reflects the Hoopoe's wisdom.
Jane's meticulous drawings take several months to research and make. Sumptuous signed and numbered limited edition archival pigment print, made by one of the very best printmakers in the industry.
Print reproduced from original colour Biro drawing by Jane Lee McCracken 
Edition: 25
Paper: Hahnemühle Photo Rag 308gsm 
Size: 30 x 30 cm 
Print is signed and numbered by Jane
PLEASE NOTE THIS PRINT IS MADE TO ORDER - LEAD TIME IS 10 DAYS INCLUDING SHIPPING 
SECURELY PACKAGED AND SHIPPED WORLDWIDE VIA TRACKED SHIPPING SERVICE
FOR RETURNS OF THIS ITEM PLEASE SEE OUR RETURNS POLICY UPON CHECKOUT